23 Violin Jokes and Commentary
1) Q: How do you keep your violin from being stolen?
A: Put it in a viola case.
I actually did have a violin stolen once. A viola case would not have helped . . .
2) Q: Why is a violin smaller than a viola?
A: It only looks smaller because the violinist's head is so much bigger.
For me, this comment about a violinist's over-inflated ego is often a lot more true than I would like it to be!
3) Q: Why did Beethoven write ten violin sonatas?
A: Because he was deaf.
Q: Why didn't Tchaikovsky write any violin sonatas?
A: Because he wasn't.
For those who aren't familiar with Beethoven's sonatas, they're really very luscious and beautiful, particularly his famous "Spring Sonata." I also would have loved it if Tchaikovsky wrote a Violin Sonata . . .
4) My violin wouldn't fit in its case. So I played a fiddle tune and tried putting it back in the case. It fit as a fiddle.
Thank my husband for coming up with this one. I'll take this random opportunity to pass on a bit of knowledge from a fellow community orchestra member—fiddle players will sometimes request a special flat bridge for their instrument, to make playing double stops easier. So sometimes there can be a physical difference between a "fiddle" and a "violin," though typically the terms are used interchangeably.
5) St. Peter is checking ID's at the Pearly Gates, and a Texan approaches. "Tell me, what have you done in life?" says St. Peter. The Texan says, "Well, I struck oil, so I became rich, but I didn't sit on my laurels - I divided all my money among my entire family in my will, so our descendants are all set for about three generations." St. Peter says, "That's quite something. Come on in. Next!" The second guy in line has been listening, so he says, "I struck it big in the stock market, but I didn't selfishly just provide for my own like that Texan guy. I donated five million to Save the Children." "Wonderful!" says Saint Peter. "Come in. Who's next?" The third guy has been listening, and says timidly with a downcast look, "Well, I only made five thousand dollars in my entire lifetime." "Heavens!" says St. Peter. "What instrument did you play?"
This probably hits a little too close to home for some.
6) Q: Why did the novice violinist take a trip to the swamp?
A: Her teacher told her to get a grip on the frog.
By Nathan Shaskin. I actually learned in grad school a possible reason why the frog of a violin bow is called the frog. (Teaser for a future post.)
7) What's an Airbus engineer's reaction when a plane crashes? It must be a Boeing problem.
What's a string orchestra member's reaction when their playin' crashes? It must be a bowing problem.
This is an original Cshaskin joke. You're welcome. No law suits, please. I can only speak to the truth of the joke's second half.
8) Q: What's the most peaceful musical instrument?
A: I don't know, but violins isn't the answer.
Hey . . .
9) Q: Why is it dangerous to have more than one violin in your house?
A: It can lead to domestic violins.
I read that a kid came up with this one. Good for him for knowing what "domestic" means!
10) Stephen Hawking was a master at the violin. He had an adept understanding of string theory.
I confess, I know next to nothing about Hawking's string theory. I'm a violinist, with plenty of string theories of my own . . .
11) "Doctor, doctor, will I be able to play the violin after the operation?"
"Yes, of course…"
"Great! I never could before!"
Sounds like a dad joke!
12) My violin always sounds like it's crying. It must be too high strung.
Excuses, excuses . . . ;)
13) Q: What do you call a cat from Mexico who enjoys Italian food?
A: Pizza-gato.
Another Cshaskin original. My husband, not being a musician, didn't get it.

14)


From a sweatshirt my mother-in-law gave me.
15) Q: What's the difference between a violinist and a large pizza?
A: A pizza can feed a family of four.
Ouch!
16) Professor: What's the difference between a panini and Paganini?
College Student: Gee. A. Good question.
Indeed, it would be hard to compare a sandwich to one of the most talented violinists who ever lived. This is one of mine. I apologize.
17) Someone once asked if I played the violin. I said I fiddled with it.
Gotta love those jokes with double meanings.
18) Q: How many violinists does it take to screw in a light bulb?
A: Four. One to screw it in, and three to stand around and suggest how they could do it better.
No comment.
19) Q: How many second violinists does it take to screw in a light bulb?
A: None. They can't get up that high.
Okay. A little explanation here. In many cases, it's not that they can't. It's just that they're not allowed to. The composers can't make all the parts equal in range. Or something. Second violins rock. In the event this joke sounds true for your orchestra, a word to the wise: if you value your second violinist friends, don't tell them this joke . . .
20) Q: Why couldn't the string quartet find their composer?
A: Because he was Haydn.
For those of you not familiar with string quartet literature, Haydn wrote a plethora. He was considered the "Father of the String Quartet." Thanks, Music 302!
21) Q: Why was the fish such a good musician?
A: He knew his scales.
Very C-worthy . . .

22)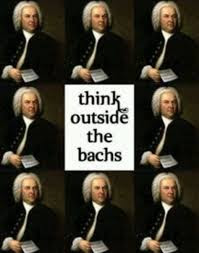 Clever . . .
23) Q: What's the best way to learn the violin?
A: From scratch.
I happen to love this and whole-heartedly agree.
And there you have it!
Credits: My memory, my imagination, my husband's imagination, pinterest.com, UT Symphony FB Page, blog.sharmusic.com, reddit, thestrad.com, punstoppable.com, takelessons.com, violinist.com, classicfm.com