I have a relatively young studio, even though I have violin students currently ranging up to seniors in high school. In other words, the studio itself hasn't been operating in this rural location very long. Because most of my students have less than three years of experience ever taking private lessons and need to adjust to the new expectation of daily lesson practice, I decided to adapt a particular practice challenge to the needs and desires of my current students. You may have heard of the 100 Days of Practice Challenge. Well, I decided we weren't quite ready for that yet! But we were ready for something! And after some brainstorming on my part, the 100 Days of Listening was born.

My instructions were simple: Listen to some sort of music with a violin in it for 100 days . . . in a row. That's right: if they missed a day, they had to erase their tracking and start over. Other than that, I didn't impose any stipulations. No time restrictions. No genre restrictions. Whether it was listening to an entire symphony or a five-second theme from the opening credits of their favorite movie, if they could pick out the violins, it counted. They could listen to jazz, religious, pop, string quartet, fiddling, symphonic, Broadway musicals, rap, classical solos, video game music, you name it. The point was to get into a habit of being aware of the violin more often, in a low-pressure way, and to be inspired: to be intentional about noticing violin music wherever and whenever it surfaces. Of course, I decided it would be fun and a good example if I did the exercise along with them!

It should be noted: This was to be above and beyond their regular practice time.

I'll be honest. Sometimes I had to count hearing my ringtone on my phone (Raiders of the Lost Ark) on days I wasn't more on top of things. But the interesting thing for me was how much doing this exercise got me even more excited about the violin! Certain stand-out performances inspired me. I've linked five of my favorites below:

"Symphony" performed by the One Voice Children's Choir, featuring Rob Landes (we played together one year as kids)

"Benedictus" by Karl Jenkins (heavenly, as referred to in my prior blog post)

Carmen Fantasy, recorded by Augustin Hadelich (maybe one of the best technically-executed performance of any I watched this summer)

Paganini Caprice No. 5 performed by Leonidas Kavakos (possibly the fastest performance I've ever seen; shared in a TwoSet Violin video)

Concerto in d minor by Sibelius, performed by Hilary Hahn (she's always been a favorite since I was introduced to her at the age of 18; the orchestra does a great job, too)

Suddenly I was inescapably immersed in the world of violin with no possibility for escape. And it was great, even in large doses. The violin is such a versatile instrument, which is perfect for someone like me who had a hard time in my youth deciding whether I wanted to dedicate my career to music or something else entirely. Sometimes I still want it to be a garnish in my life, and sometimes the main course. And that's not unattainable!

When I get bored, or (on the flip side), very interested in something completely different than my norm, it helps me to know that the violin can fit in in unique ways to almost anything I do. A wide variety of experiences have come my way over the last seven years. I've put my ear training to use, coming up with violin parts as part of a Celine Dion tribute band. I've put my sight reading skills to the test playing for Sissel with the Orchestra at Temple Square and learning, in two hours, how to play Schindler's List for a performance at a local middle school. I've enhanced my spirituality by playing beautiful hymns in church. I've laughed on stage with the Piano Guys. I've practiced playing with less vibrato and more blend as a miked performer at the local Renaissance Fair and Dickens Festival at Christmastime. Or tried my hand yet again at more of a grand, projecting, soloistic style, playing classical music alone on the stage of a distant college campus concert hall.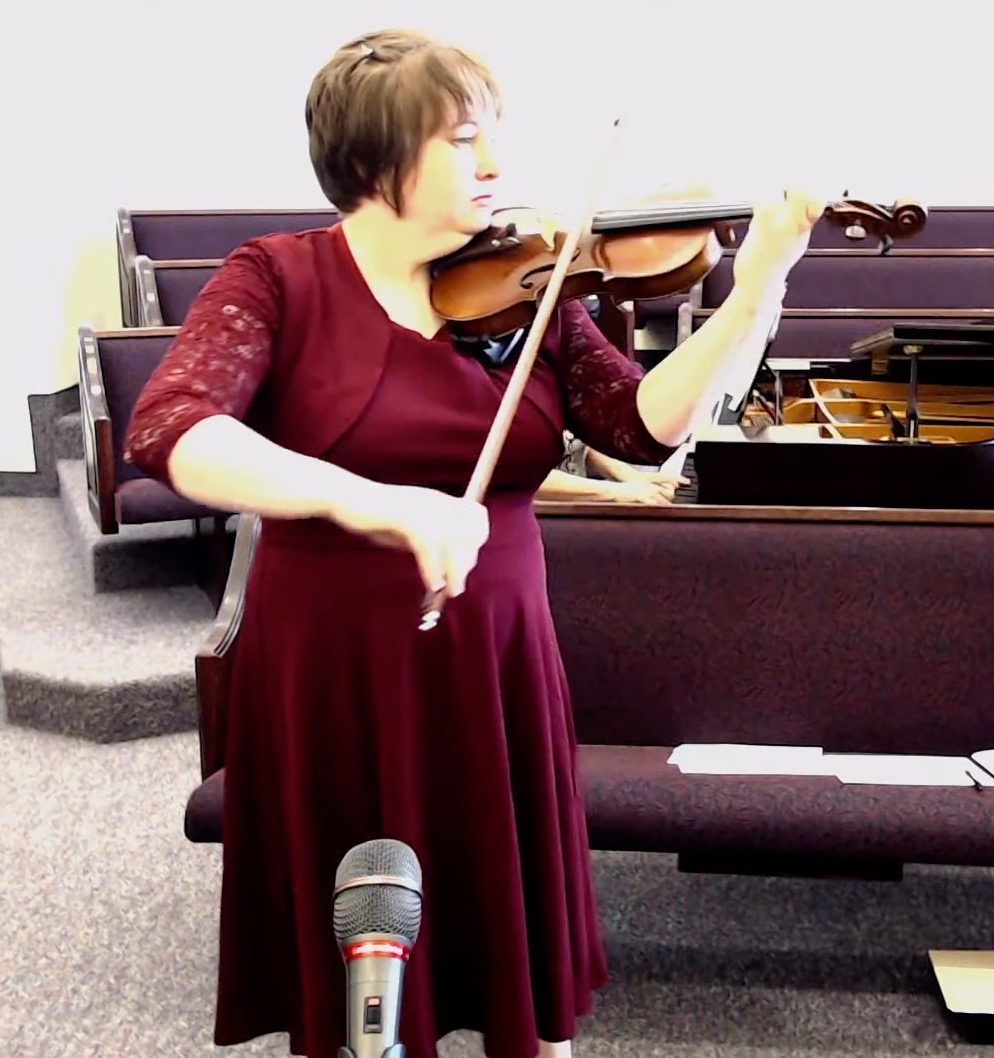 I've worked at music stores and taught music lessons. I've visited schools, run sectionals, judged festivals, and planned tours. I've created music websites, such as this blog. I've wowed my own kids with my own violin version of Wheels on the Bus and volunteered to play at my son's preschool. Of course, maintaining a proper balance in terms of the right amount of music has been important, so that I'm not "running faster than I have strength." (See D&C 10:4.) I believe I would have a good life even without music. But I don't want to try to imagine the emptiness in comparison!

This activity is definitely one that was worth doing, and one that taught me even more about the variety of violin beauty in this world. If my students got half of what I did out of attempting 100 Days of Listening, chances are, I'll be advocating this practice to them again . . . and often. Now, hopefully I'm one step closer to being inspired to try the real #100daysofpractice!